WE – A global  campaign of We, The World to unite
and amplify the efforts of people, organizations
and movements working for the common good
WE.net
You are invited to an extraordinary event and broadcast…
Saturday February 2nd, 2019 from 3:00pm – 6:30pm
@ One of New York City's Largest Theaters
The United Palace
A Magnificent Landmarked Urban Treasure
4140 Broadway at 175th Street in Manhattan, New York City
Tickets and Event Info at: www.unity.earth/lift-off

Featuring Performances By
BELLA GAIA – an unprecedented NASA-powered immersive experience that blends live music, dance and large screen NASA imagery into a breathtaking planetary journey.

PATO BANTON – a Grammy-nominated artist whose audiences become participants as the beat keeps them on their feet, and Pato delivers a message that is food for the mind and soul.

KRISTIN HOFFMANN – a Juilliard trained multi-instrumentalist, vocalist, and recording artist with a transcendental ability to take audiences on a journey of deep awakening to Spirit.

AKIM FUNK BUDDHA – a Zimbabwe-born legendary urban performer known for his holistic approach to Hip Hop, rhyming, beat-boxing, mouth percussion, story-telling, Mongolian throat-singing, and martial arts.

MYSTIC VOICE – her soothing and meditative chanting stems from a deep spiritual connection to the ancient texts such as the Tao Te Ching, the Buddhist Sutras, the Sanskrit Vedas and the poetry of Rumi.

PLUS Appearances By indigenous leaders, diplomats, artists, scientists, peacemakers, interfaith and faith-based activists in an unprecedented celebration of our common humanity

& Other Special Guests to be announced!
General Admission Tickets: $20
VIP Reserved Orchestra Seating Tickets: $100
(includes Pre-Concert Recepton with the Artists + VIP admission to the After Party!)
We, The World is excited to be partnering with Unity Earth for this remarkable concert and broadcast event! We invite you, your friends and families to join us for UNITY EARTH LIFT OFFFebruary 2nd – in person, if you are in New York City, or via Online Broadcast. Tickets are available at www.unity.earth/lift-off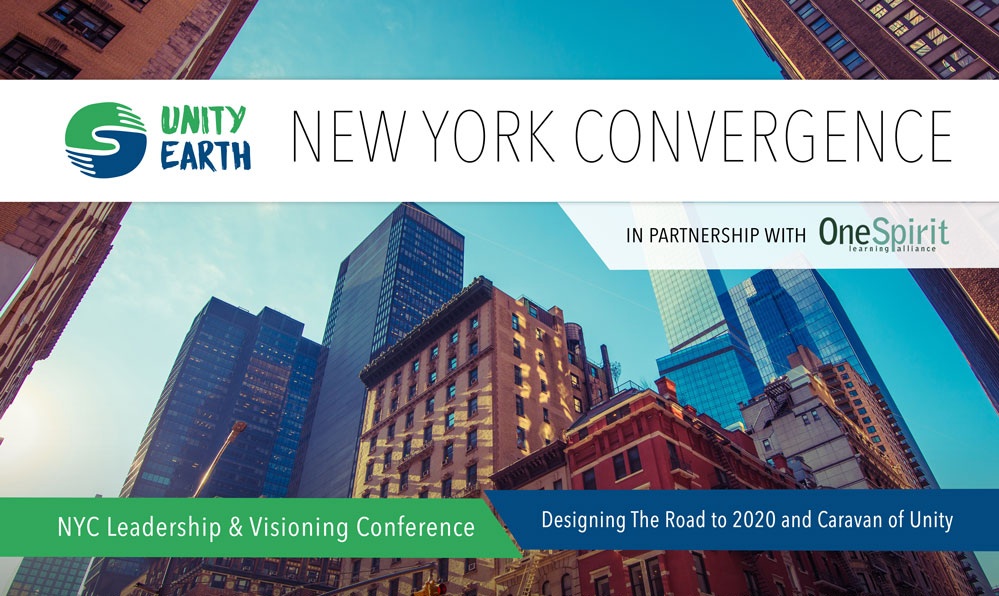 NYC Leadership & Visioning Conference
February 1, 2019 11AM – 5PM in Midtown Manhattan
Reply to this email with your organization info to RSVP

Do you have an organization that might be interested in joining our Road To 2020 Coalition?Are you available to attend a special high-level organizing meeting in Manhattan NYC the day before the concert, on Friday Feb. 1st from 11AM – 5PM? If so, please reply to this email as soon as possible since this free Leadership and Visioning Conference is by invitation only and there is limited space. Please include information about your organization and a link to your website.
I would be thrilled if you can join us in person or online for the UNITY EARTH LIFT OFF CONCERT February 2nd, and/or for the Leadership and Visioning Conference February 1st. Together let's grow this worldwide movement for unity and peace!
Rick Ulfik
Founder of We, The World and the WE Campaign at WE.net
Subscribe to our WE Campaign Global Action Newsletter: WE.net/subscribe
11 Days of Global Unity – 11 Ways to Transform Your World
An Urgent Message From Your Children at WeYourChildren.org
GlobalUnityCalendar.org – See and post social change and cultural events for a global audience!
Check out the We, The World Song: https://wetheworldmusic.bandcamp.com
Volunteer Sign-up: http://WE.net/takeaction/volunteer
Organization Sign-up: http://WE.net/11days/participate
Donation Page: WE.net/donate
Facebook – Twitter